What to get your scooter obsessed friend (spouse) and not break the bank? There are lots of toys, ornaments, t-shirts, gadgets, and practical items to consider. Here's a sampling of what you can find if you keep your eyes dialed in.
Let's start with the fun stuff, like ornaments.
There's a fair trade store in Boulder called Sevya which has very cool scooters made from recycled pop cans. In their words "Sevya is dedicated to preserving the indigenous art forms of India by supporting the artisans who uphold these traditions."
They also have motorcycles, airplanes, jeeps, and three-masted ships for variety. For $7, your loved one will have a unique gift, hand crafted, and supports sustainable living for others around the world.
Other sources for ornaments abound. Check cafe press for some really interesting designs; prices vary around $10.
You'll be surprised by how many unusual places carry scooter items; I picked up this gem at Gumps last year in San Francisco while attending AGU.
And this year, the Gump website has this awesome looking motorcycle. Also check World Market, Hallmark, and other gift oriented shops, such as Scooter Swag and Deviant Art for ideas.
Oh, but you want to give her something practical? Its winter. your scooter babe/dude needs to stay warm... how about a versitile neck gaiter such as one by Buff Wear. I first bought this to use while riding, but now I wear them all the time. They're fun too as you can change how to wear it into a balaclava, hat, pirate's scarf, and more.
And it would be nice to ride without freezing one's hands off - there are lots of insulated hand guards that are generic fitting, such as these by Ducks Unlimited. (Maybe black would be a better color for the scooter). More outerwear ideas are nicely provided by Scooter Riding Style and other practical ideas through webBikeWorld (great reviews too!)
Other ideas: a battery tender, a scooter cover or enclosed structure, Stabil to keep the gas from varnishing, the list goes on... How about some retroreflective tape and stickers (let her pick the style)? And a gift certificate to her favorite scooter shop, such as New Enough will bring shreiks of joy :).
Getting back to the just-for-fun stuff, there are lots of die-cast models out there (Amazon.com and WalMart have a few) and for the futurue scooterist how about an electric mini scooter... Peg Perego Vespa GT Scooter

Its a REAL scooter for kids! "Picture the most stylish ride around, with your little one beaming in the driver's seat. The Peg Perego-licensed Vespa GT scooter has the power of a 12-volt rechargeable battery that propels it at 2-1/2 or 5 mph, and it stops quickly with its rear brake. " At least Amazon suggests buying a helmet with the scooter (in pink of course).

Amazon; other big box stores carry similar scooters.




Now that I'm looking, there are five or six different electric scooters and motorcycles for children to ride! Wow, boy are they lucky!



And the Razor Pocket Mod Miniature Electric Euro-Style Scooter and other Razor scooters even have a range of 10 miles, will carry 175lbs, and speeds up to 17 mph!



Ok, so this one is a bit overpriced, but if you just gotta have a Barbie on a scooter, there's Beach Glam Nikki and Vespa
at Toys'R'S and Amazon; and of course, Beach Glam Barbie and Vespa, Surf's up Aa Barbie with a yellow Vespa, and Surf's up Barbie with Lilac Vespa. Did Toys'r'us really have to classify Nikki under the "Ethnic Dolls" category - come on! She's a Barbie! That's all one needs



And then my favorite, the BARBIE VESPA MOTOR SCOOTER without the Barbie :) (At this point, its a collectible, so look for deals!)



Now, you guys don't feel left out... there's the Rescue Heroes Mobile Force - Kenny Ride & Scooter. The list goes on and on...
Oh, and this is too cool! An out of print record album has been re-released called on CD: The Sound of Speed by Bob Thompson. And guess what,it comes with a track entitled: La Vespa (Motor Scooter). Listen to the beginning of it on Amazon. Its also available at Target.


You want pink?



Here's some pink for ya!



from: Hello Kitty Hell:




Now THAT is PINK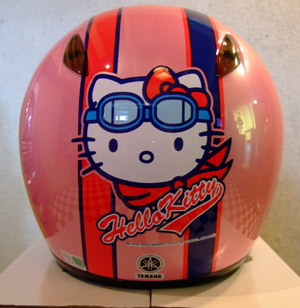 Wait there's more - now there's the Hello Kitty Helmet, in pink! Everybody needs a helmet, might as well be cool.






OK, I don't know about you but all of these scooter toys and stuff has me in scooter overload. I think I'll go take a nap now.




Oh, what about me? I got my present for Xmas and Birthday... see last post on my Fox Creek jacket

journey